Have you ever had a great initial meeting with someone but were never able to meet up with them later? 
Maybe you got her phone number, but you didn't get a chance to talk for too long, and now you don't know what to say, and no one really talks on the phone these days anyway .
Or maybe you do meet up for a date but now things have gotten kind of stale without the same spark of sexual chemistry and attraction that you had the first time you met.
Now you can solve those problems and stop losing promising opportunities with women. In the Text Message Mastery webinar on May 28 you will learn through step-by-step examples of how to use text messages to rapidly build upon and turn that initial spark of attraction into a burning desire to meet you righty now! Based on the live seminar, and now from privacy of you home this webinar uses real life examples to show you how to bridge the gap between first meeting her or first contact from online dating to meeting up again in person.
Whether you think you are ljust ooking to hook up or looking for what could turn into a longer term relationship, it all starts with that first spark of attraction. Don't make the mistake that you fear being too sexually flirtatious will get in the way of being attractive to a woman or even finding a longer term relationship.
In this webinar, learn from several different kinds of step-by-step examples which show you the progression from first text to next meeting, to 6 month, one year even two years later. Just because some of these relationships started very fast, it doesn't mean that they can't continue to go on as some form of Friends with Benefits if you do things in the right ways.
At this seminar you will learn how to:
• Avoid wasting your time with where it's just not on. Be bold in a way that quickly determines whether she is just being polite or is really into you.  Wouldn't you rather find out sooner rather than later after investing lots of time and energy?
• Continue the conversation rather than have an abrupt break where you later have to start over from square 1 when you text, call or meet up with her in the future.
• When to call and how a brief phone conversation will make your meeting in person more likely to be successful.
• How to successfully transition from meeting online to text messages, to phone call to meeting in person.  
• Avoid boring conversation-killling text messages and keep things fresh and intersting. 
• Use the perfect timing of your text messages in a way that will drive her wild. Hint: this is not you texting at midnight on Friday or Saturday night, but it will make her do that.   
• Plant the seeds for future events during the initial meeting and through your text conversations so that it seems like the two of you have already had fun before you have met each other.
• Learn how to smoothly and playfully introduce sexual innuendos to the conversation within the first few minutes of meeting her, so that she says "I can't believe I'm talking about this even though I just met you."
• Demonstrate that you are actively speaking the same  language to her. A few simple tips will allow you to lead her to push the limits to be more sexual with her text messages.
• Push her to be dirtier by using language in the same way that has been used by salemen, advertisers and even the CIA to be more persuassive. In my years of experience personally and coaching men, I have found that we underestimate how sexual a woman can be, the key is getting things to the point where you allow her to embrace her sexual side by laying the right ground work so you don't come across too strong or creepy. 
In addition to the webinar you will receive a workbook which includes a recording of the seminar and a workbook that you can use as a guide with
Easy to follow templates, be able to get started and

use what you learned immediately

!  

Even more examples from my own personal life stories that you can model work-for-word. 

Secrets to dirty talk to have her hot and bothered for you and keep things fresh even after you have already been seeing her for some time. 
RSVP now  to reserve your place, space is limited for this webinar due to software constraints so reserve your spot now!  
Here's past attendees are saying about the Text Message seminar / webinar 
This was very well organized, taught and put together. Michael did an excellent job of presenting himself and the content. Texting, being a relatively new thing, is something that has been embraced by a very LARGE amount of women, and many use it to communicate exclusively. It is imperative that you are with the 'in' crowd and know how to text properly.
Great seminar! One of the best I've been to yet. Great job Michael!
Alex Q.
What I liked best about this seminar was that Michael demonstrated everything he did using real life examples and explained what he did step by step. It was very helpful to learn not only know what to say, but his reasoning and way of reading and responding to what she said. 
As a woman I was amazed at how much of what men can do effectively also applies to women. Now I can create my own messages and respond in a way that feels genuine and authentic while also being powerful and effective. Thank you one again Michael. 
Debbie D.
This course was extremely valuable for learning text messaging as an effective way to keep things going with a woman and arrange a day 2. And it was also valuable because I always used to feel that I run out of things to talk about and I saw how I could use text messaging as a way to practice my game. Since you have a moment to think before you send a text message I saw this as a great way to practice becoming a better conversationalist.
Matt H.
RSVP today at the basic level for just $39.95! 
To reserve your place, space is limited for this seminar so reserve your spot now! Login Information will be sent to those who register. 
Follow up materials for the basic seminar 
After the seminar you will also receive a recording of the seminar and a workbook that will help you continue to refine your skills.
This includes: 
Templates that you can refer to and use to

create your own text messages starting immediately

! 
Additional

word-for-word examples

that you can model to use for yourself. As you will find you can be much more bold with women than you had ever thought to be possible! 
A quick reference review that you can use anytime to

keep yourself on track

.  
But wait, there's more! 

VIP signup  
If you really want to take you game to the next level then read on to learn about VIP package that will help you acheive the kinds of results with women that you've always dreamed of and when you signup now you will also receive the following bonuses 
Bonus #1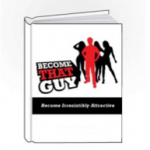 A copy of my book Become That Guy:
Become Irresistibly Attractive 
 

When you Become That Guy who is Irresistibly Attractive you can have power and choice in your relationships with women while being honest and clear about what you want. This book is a comprehensive reference for developing attractive attitudes, beliefs and behaviors so that they naturally become a part of who you are, rather than having to recite fake lines or stories. 

 

(29.95 value) 
Bonus #2 
Become That Guy: Irresistible Confidence hypnosis audio 

Learn to become irresistibly attractive and irresistibly confident by passively listening to this audio course each night before going to bed. (24.95 value) 
Bonus #3 
Pickup: Real Life Adventures of Seduction book
Learn how to successfully pickup women through entertaining real life step-by-step field report examples from myself and some of my clients. 
The short stories contained in this brief memoir include the following:

Mile High Mike: Seduction at 35,000 feet – How I picked up a woman during a plane flight to South Africa.
Get Laid or bust: where I picked up a hair dresser from the gym pool who turned out to be a nympho with bipolar disorder.
4 ½ foot tall client loses his virginity to a 6 foot tall blonde personal fitness trainer
Conservative Girl and hard core sexting. See how I helped lead a woman who is "not that kind of girl" past her own hangups
Redhead Model: Dance Floor Pickup. An ultra fast pickup, 15 – 20 minutes from meeting until we were heading home, then intense mad love and then it ended weird in heart break. 

($19.95 value) 
30 minute one-on-one Coaching session 
If you still find yourself with questions that you would like to discuss privately or are wondering whether or not you think this can work for you, whether or not you really can save time, money and heart ache by developing your skills with women. I'll sweeten the pot for first time clients with a trial 30 minute session. 
Look, this has worked for everyone that I have ever choosen to work with, but part of the reason for my success is because I also been selective to work with guys that really want to get results. I don't want to work with guys who aren't certain that don't see the value in this or I don't think will benefit from this, so give it an initial shot and see if this is for you. 
So rest assured and get the results you truly desire that others have already gotten. ($75.00 value) 
So sign up today for the VIP package upgrade for just $99.95 to take advantage
of this seminar and enjoy $144.90 worth of bonuses!  
About Michael 
Michael is a dating consultant in Washington, DC, author and speaker who runs the DC Pickup Artist Meetup Group.   Michael first discovered the men's dating education Community or Pickup Artist Community (PUA) back in 1999 and has been professionally coaching mostly men and some women for years now. Michael has led over 30 seminar workshops in the last few years. He is regarded as one of the foremost experts in recognizing and rapidly increasing sexual attraction and fostering relationships that develop organically. He has been a speaker at several national dating conferences across the U.S.  Recently Michael was a guest on the Romeo Divine Show.
Michael is the author of the book "Become That Guy:  Become Irresistibly Attractive" a comprehensive resource toward dating and self-development for men available on Amazon.com and through Michael. When you become that guy who is irresistibly attractive you can be powerfully direct and authentic, secure that you can have the kinds of relationships that you really want. 
Michael blends his personal experience and experience coaching others with almost 12 years of experience in public speaking, sales and promotional marketing. Go to his website http://www.becomethatguy.com for more information about his coaching, seminars and to read free articles and field reports of his adventures.