Who else wants to have unbelievable power and choice in their dating interactions?
Whether you think you want to play the field or think that you want to find one special girlfriend this course will give you specific tools that you can use to take your game to the next level.
Notice I said think you want a girlfriend (or boyfriend), this is because once you have mastered these skills and developed an abundance with women you might find you are perfectly happy having more than one woman.
In the comprehensive dating coach program in Washington, DC you will learn effective communication strategies that you can use immediately both during the day and that night with the women you desire. You will learn through a combination of seminar teaching, and real world infield practice. You will learn new things, try them out with guided practice, review your experiences and then learn more things and then try them out again.
You will learn through demonstrations and guided exercises to develop your voice tonality, emotional expression and sub communication and by immediately taking it out into the real world in daytime events and at night time.
Whether you have already had some experiences with women and are looking to resharpen your edge or a newbie that is still developing his skill set you will find much to be gained from this evening session. This seminar will provide you with solid tools that you can immediately apply to your interactions with women and to your life in general.
Much of what will be taught is outlined in the social skills and seduction roadmap sections of my book Become That Guy: Become Irresistibly Attractive a comprehensive A – Z reference for pickup, available on Amazon.com and from Michael which will be included for this course.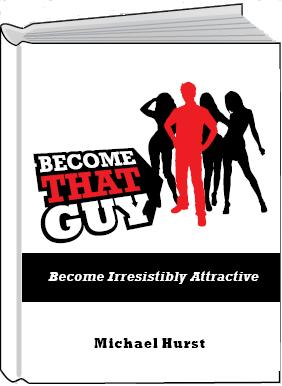 You will learn in such a way that you will find yourself naturally doing and saying the right things at the right time without having to stop to think about it.
Before I go into more detail about what you'll learn, here is what some past attendees of this seminar are saying
What Michael teaches really works, use it!
I was skeptical at first, as you guys know I am of everything, however after seeing this woman literally drop into a trance when she was out with Michael I attended one of his weekend seminars and thought it was so powerful that I then signed up for his month long comprehensive coaching program Here is what happened, note that I am still a virgin, although I feel I'm going to make a lot more progress in the coming months …
Here is my experience with Michael's seminar, as you all know, I was one of about 25 guys that took Michael's weekend seminar, which included lots of skills from NLP which I think was very powerful. I think it is integratable into any style of attracting women. So whether you're a natural, a PUA, an RSD, or whatever … learning this universal language of attraction will help you to communicate powerfully at a nonverbal level.
While on the metro coming back from infield coaching in DC, I approached a woman on the metro and within 5 minutes got an IOI (indicator of interest) that I have never gotten before. She exposed her neck at a 45 degree angle and put her hair on it and was stroking it gently. I think she is attracted to me I think to myself … BUT WHAT NEXT?
All of a sudden I felt that same tension and relaxation that QuickKill (Michael) made with that chic in front of the room. Her eye's got shinier and I felt I was in a bubble. I started to ignore the sounds of the metro, and the train seemed to get faster and I was running out of time before my stop. All I remember of this situation was the constant eye contact we had, the neck she had, and everything going so fast! She ended up giving me her phone number without me asking for it.
Keep in mind this is my first time that I tried this out after learning it earlier that day.
Michael's stuff works, Use it. Thanks Mike. I'll see you in the coaching program.
Sean A.
23 year old grad student
I was able to seduce one of the "most wanted" girls in my social group
I took Michael's comprehensive coaching program in July and August 2010. With the new skills that I learned with Michael, I was able to seduce one of the "most wanted" girls in my social group right at the end of the month long workshop! She is beautiful and very smart. After starting out as "Friends with Benefits" now she is my girlfriend, so I wanted to keep the details private. Sorry, guys. Now you know why you have not seen me out …
In Michael's coaching program, his students learn how to awaken the "Discovery Channel" side of women, while still being quite straightforward with them. During this workshop, you always get a strong feeling that Michael is really interested in seeing his students being successful.
People who benefit the most from this workshop are the women who are dating Michael's students. That is because we learn how to pleasure a woman and give her amazing orgasms. Bring a notebook and take very good notes on what he says!
Ron E.
41, Washington, DC
Rub My Bald head of Good Luck


I am a divorced single father who just turned 50, spent 20 years in the Navy and the chicks love to rub my bald head for good luck.
I think the coaching program is appropriate for almost all levels of skill – I would say that people in my cohort ranged from beginner to fairly advanced and all seemed to get value from program.
If you are already good he will offer you a few tricks to make your game better. Will it provide the missing pieces in your game – I don't know but you will get NLP training and more field time which surely will not hurt.
Michael is direct in his approach and is good at quickly identifying which women are into him. That said he pulls some hot chicks – have seen him do it. His skills and ability are very real and if you want to learn how he operates talk to him or take one of his seminars.
Michael has a passion for the subject and is a ego-less Guru of pickup, he has a quick mind and is a cool guy to boot.
I've had a lot of fun going out with the cohort every week – I plan to continue to continue with program as I think it offers a good value for the money. Very cool guy who offers a lot of value. Take his NLP seminar!
Here is some of what you will learn in the coaching program
• Develop your own custom state of mind for pickup using images, sounds and feelings that are unique to you. Create self-anchors to access your ideal state of mind on command and adapt it to the situation that you find yourself in.
• Infield approach drills where we break it down step by step over the first minute. We will alternate between drills, live approaches and real-time feedback.
• Body language, posture and movement exercises to train yourself to project the kind of relaxed confident power that is naturally attractive to women. Identify and eliminate any moves that are attraction killers
• Develop your own personal (DHV) stories of adventure. It's my belief that every guy has at least one or two good stories of adventure in him, you just need to know how to tell it in a way that is exciting with sensory-rich descriptive language.
• Develop your own personal career elevator speech turn the "what do you do" question into an interesting conversation rather than a conversation killer.
• Conversational flexibility, learn to effortlessly flow from one conversational topic to another. Proactively lead the conversation instead of waiting for a topic to wither and die.
• Sexually escalate the conversation both through your skillful use of language and your touch with smooth kino escalation.
• Several ways to continue the interaction to take her home or to get a phone number so that you can continue later with a phone # and day 2 already seeded and setup.
There will also be the lead in for another round of my coaching program to follow up on what you have learned during the weekend seminar.
• 4 weekly webinars to learn the skills and techniques and get them into action.
• 4 infield sessions at bars, clubs and daytime venues
• 4 one on one coaching sessions up to an hour long each week
If that sounds good, read on ..
Become that Guy coaching program – A structured approach to become "that guy" who women want to be with.
No matter what different tactics or strategies you learn, the road to becoming successful covers at least these steps.
1) Gain more control of your own state of mind.
In other words find ways to deal with social pressures and "approach anxiety" in a way to deal with social pressure and anxiety and how to get yourself into an ideal state of mind for being attractive to women – control of your "state"
2) Learn to capture and lead a woman's state of mind and emotions with your own state of mind and ability to communicate.
3) Develop your social skills to the point that you fluidly read and respond to her in real time until it becomes a part of who you are
4) Understand what women really want. Hint it's not necessarily what they say they want (although most women will disagree with you on this).
5) Be sexually potent, not just good but so good women go around and brag to all of their friends and women can sense your confidence.
What does my program include?
I have developed a systematic approach to developing your social and seduction skill sets spread out over about 4 weeks. Through evening and weekend workshops you will systematically observe demonstrations, have guided practice and then rehearse and master skill sets. These skill sets will be directly applicable for immediate results while also forming a solid foundation for extraordinarily powerful interpersonal communication.
In the coaching program you will learn
1) How to build an incredibly powerful seduction state of mind Be That Guy who is in state and overcome approach anxiety rather than just try to ignore it or plow through it.
• Control over your own emotional state
2) Learn Powerful foundation social skill sets easily through roleplays and guided practice drills to develop your voice tonality, emotional expression and subtle subcommunication. NLP gives a strong framework for systematically developing your skills.
• Voice tonality – Use your voice so that she starts getting turned on just listening to the sound of your voice. See this with your own eyes as I demonstrate live.
• Magical rapport – Learn techniques like the "gold bubble" which grew out of various techniques taught by alternative "energy" workers to the CIA. Instantly establish rapport without saying a word. This technique is so simple yet so powerful it has to be experienced to believe
• Calibration – Learn the art of pushing the limits without going past them. This skill set gives you the ability to rapidly sexually escalate with a woman even if she "doesn't normally do that."
• Anchoring – Have you ever got a woman into a great state of mind through your conversation and thought everything was totally on the hook, only to be disappointed when you tried to make a second date or met up again. Learn to activate those same juicy states of mind as easily as pushing a button.
3) Learn and discuss the psychology of why different kinds of game work and learn how to use these skill sets to build upon or strengthen your existing game.
• You don't have to change who you are, just understand how the principles apply to your unique situation.
• Goal setting – Learn to set goals so that you can
4) An arsenal of specific word for word language patterns and routines guaranteed to get you laid in a variety of circumstances.
• Advanced conversational structures – Learn basic formulas that will make your stories truly irresistible, even if normally they would be too much. This allows you to rapidly escalate sexually in person, on the phone, by text, daytime, night time anytime. The bonus is that you can practice and learn these structures by text and phone with the words right in front of you.
• Linguistic patterns – Ever wonder what to say, or worried that you'll screw things up when they are going well? Use these example stories which employ metaphors and various techniques applied in sales and politics for year.
5) Initiate a conversation with certainty.
• Develop your own specific customizable introduction stacks to initiate your interactions with women and serve as a guide so you know what to say while you are honing your social communication skills
6) Online dating including profile review and setup. Optimize your profile based on your strengths and what you are looking for. Learn how to go from picking which women to contact, to crafting your first message, to phone number, to meeting in person, even having her come over to your house that night.
7) Develop your own phone and text message templates to guide your communication and make sure that you consistently take all of the steps necessary for success.
• Yes, every person is different, but just like I learned through my experiences working in sales and politics, there are certain "buttons" to be pressed. Take the "luck" out of getting lucky, by consistently doing the types of things that women want.
8) Create your own personalized stories and routines that convey the best of who you are based on your own life experiences applying powerful tools and techniques used in sales and marketing. Develop an interesting answer to the question: "So what do you do?" and "where are you from?" transition these to conversational topics that women are already interested in, they will help carry the conversation and seduce themselves.
8) One on one coaching calls where you can get individual feedback and solutions on sticking points and specific scenarios or dates with women.
9) Infield sessions during day, night and social group settings like Meetups, outdoor festivals, coffee shops, bars and more. Get immediate feedback on what you are doing right and what can be improved upon.
10) Devastatingly powerful QuickKill physical and verbal sexual escalation tactics that will give you unbelievable power when it comes time to get it on.
11) Mind melting sexual techniques, that have been called addictive by the women I know. In fact many of my woman friends ask for references when I am busy for guys that I know have been trained in the sexual arts.
Why learn from this type of approach and skill set?
If you are looking to learn and apply this material why not start with a logical approach to developing communication, which has been extensively used all over the world by the multi billion dollar marketing, self development and sales training industries for over 30 years:
Neuro Linguistic Programming (NLP)
Neuro Linguinie Pro … what? You say. Instead of trying to explain it myself, here is one of my clients had to say.
NLP is a major part of what he teaches. And he's very skilled with it to say the least. Unfortunately, I've met lots of guys with misconceptions about what NLP is. If I had to come up with a definition of NLP, I'd call it the art and science of communicating with maximum effectiveness. You don't have to be a grand master ninja with this stuff for it to be effective. Just knowing and applying a few key concepts can be very helpful. If you don't at least know the basics, you're really short changing yourself. It's one of those things where the more you learn and apply it, the more natural and effective it becomes for you. You may find that it instantly gives your game a boost, or you may find it takes a little practice for it to become maximally effective. But either way, you're game is sure to improve.
- Todd
35, Bio Chemical researcher
Washington, DC
And if you are learning this why not learn from someone with over 13 years of experience in sales, NLP and other persuasion tactics? Someone who started when the seduction movement was still underground, Mystery was still developing his method and Neil Strauss was still writing biographies about porn stars instead of banging them.
However this coaching program is not for everyone. I want to work with people that are committed to getting results and who are willing to try almost anything even if it is outside your comfort zone for what you believe to be normal and let the real world results verify what will and will not work. This will include numerous assignments throughout the week. The program will also include intensive coaching sessions and workshops. But as they say steel is forged under fire and pressure, and so will your seduction skills.
Ok sounds good, what is my investment?
PUA/ seduction seminars often charge anywhere from $1500 – 3000, corporate NLP trainers often charge companies anywhere from $20,000 to over $1,000,000 for group trainings. Top trainers like Tony Robbins have conducted one on one trainings in the White House, yes the president hired a trainer.
The price for my weekend bootcamp and 4 week program which includes:
• 4 weekly 2 hour webinar or seminar sessions devoted to learning this material.
• 4 infield sessions covering day game, bar game and club game
• 4 one on one coaching calls like an executive coach for your personal life, where you can review material from class, review field reports, identify your individual sticking points and help you customize and adapt these new skills into your attitude and behavior.
Homework as drills, exercises and missions so you always know what to do next.
So reach out and contact me to sign up for an introductory coaching call or meeting!
Preliminary Review
This review is preliminary after just starting QuickKill (Michael's) coaching program. (Update 5 weeks later, I am no longer a virgin!) I have faced some unique challenges, including the fact that I am only 4 foot 6, that's right I can barely be seen at many bars.
Basically, I need not introduce you all to Quickkill too much as his reputation speaks for itself. I chose Quick based on the fact that he's one of the few members here who consistently gets action. Also, he's been in the seduction scene for over 13 years now (back when Style and Mystery were just AFCs), I've seen him do his magic in field and he's a pretty charming guy.
Quickkill has an entire framework that covers the full range of what you need to learn to be effective at pickup from opener to sex. He starts by covering inner game, which includes developing empowering beliefs about yourself, women and sexuality that enable you to be effective.
He also covers basic communication skills like rapport, voice, and physical touch. Then on to text, phone and sex itself. Then of course there are the language patterns themselves which are slightly more advanced but tremendously powerful. While some things seem intimidating at first, it's amazing how effective these things are even if you don't do them perfectly at first.
Basically, his coaching program covers it all. And what's best is that it's catered to you and your needs, through the one-on-one coaching calls, broken down in a way that utilizes your own learning curve and best of all – he's right there with you.
The way he teaches it is awesome and fun. You learn through demonstrations that he does with women, interactive exercises and through transference just by being around him. And you learn by messing around with people. The funny thing is sometimes you don't know all that you have learned until you just find yourself incorporating it infield with women.
The skills will start to become part of who you are, how you communicate and your own personal identity in order to help maximize your hidden charmer.
Still though, what I find useful about what QuickKill teaches FOR ME are the little things, so to speak. That is, he teaches the more detailed parts of how to maintain attraction through NORMALIZED conversations, giving you tools that help make you REALLY stand out and be very interesting for who you are.
Michael is a smart guy and he uses intelligence to engage a woman's interest and distinguish himself from the rest of the jokers out there, which is something I can identify with myself since I consider myself to be pretty intellectual and enjoy the company of women that are the same.
In QuickKill's model you can be sexually forward and unapologetically direct so that she can qualify herself by staying there talking to you. Trust me, this shit is powerful and a needed addition to your game. If you have any doubts like I did at first, just read his stories and those of his students and watch the woman's responses when he demonstrates them live at seminars and infield.
TRUE SEDUCTION is not just opening and flirting. THIS IS true seduction. His rapid escalation is used as a way to qualify women, and gain compliance. The art of seduction is essentially the ability to capture and lead a woman to feel emotions in such a way that only you can do. Being able to powerfully engage a woman at an emotional and sexual level in the way QuickKill teaches is very powerful.
Salem S. Washington, DC graduate student in Finance

When you signup now you will also get the following bonuses
Bonus #1
The Adventures of Michael: narrated field reports from Michael
and his top students.
See how to do things step by step in these stories previously hidden from the public. Every story includes ultra rapid seduction where it went from first meeting to sex the first time they met. This includes meeting women through
At bars, outdoor festivals even

on the street at night

Online dating

Speed dating events, meetups

and parties

While traveling, on air planes, at hostels, at the beach, at pools

Even women who came to visit me from 500 miles away after being sent by one of my longtime friends with benefits.
And this is not just me, you will also see the results my clients have acheived and how they did it starting within weeks or learning my system.
A 4 1/2 f foot tall guy who lost his virginity to a 6 foot tall blonde fitness trainer.

Another meets a woman online and they go to the beach in the middle of the night.

My website developer gets picked up by one of my wing woman and much more
·
So sign up now, contact Michael through the contact form to schedule an introductory coaching conversation so we can see if we would be a good fit working together to acheive your goals!